Blogging for your Business
Whenever we ask our customers if they want a blog, the usual response is "Whatever for?". Most people have heard that having a blog is good for their website, but why?
Blogs are great ways of getting your views across, telling the world about your latest products, offers you may have, sharing your expertise and connecting with potential customers.
Getting a Blog
There's two ways you can get a blog; by adding it to your current website or having a separate blog on a site like blogger, wordpress or one of the numerous free blogging sites listed here. If you're looking to improve your site's ranking through publishing blogs that are relevant to your business however, the best place for your blog is on your website – that way Google and Bing will find new content on your website every time you post a blog. That keeps the search engines coming back for more. It's best to either publish the blog as a subfolder of your website (such as www.yoursite.com/blog/), but if you can't do that the second best alternative is to set it up as a subdomain.
What do I put on my Blog?
If you're stuck for content but you're itching to publish your first blog to see how it will affect traffic to your site, a good place to start is Google Trends.
1. Go to Google Trends.
Type in the thing you're most interested in (for us it has to be apps!) and Google will show you how many people have been searching for that term over time, where they are and what related search terms were used.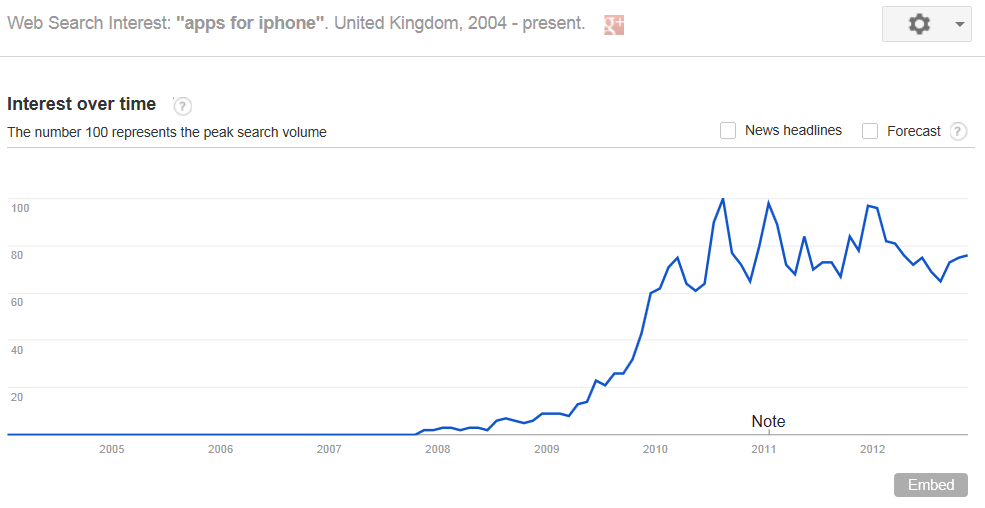 2. Pick your Region.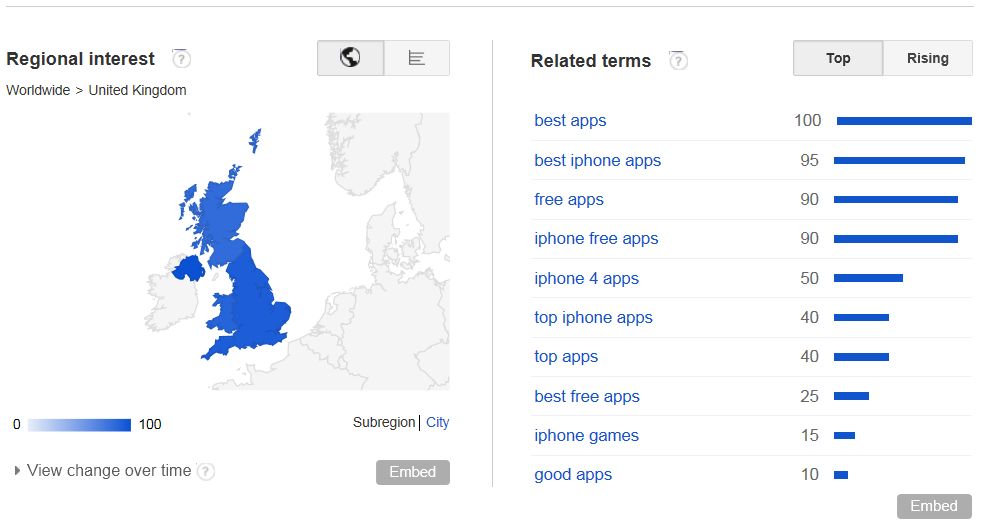 Because we're based in Basingstoke, we're going to choose the UK. You can drill down even lower, to England, then down to city level if you want to tell everyone in Oxford how good your sandwiches are for instance.
3. Pick any related terms that are better suited to what you want to blog about. It's probably best to pick the higher search volumes (i.e. nearer 100). Once you've got a term you're happy with it's time to write your blog.
4. Start writing! Keep your blog article interesting enough to make sure people stay on the page and read it. If writing interesting content is a challenge, just write less words and include a video or infographic. The most important thing is that your readers stay on your page (and your website) long enough to see all the other great things you have to offer.
When writing your blog, make sure you follow these SEO basics:
Make sure the Title of the blog includes the keywords you're writing about and accurately describes what you're talking about.
Include a description (think of it as a 20 or 30 word summary of your blog article)
Use headers and subheaders (H1, H2 & H3 in HTML). It's always good practice to use these on all pages on your website. It helps the search engines categorise the content by order of importance.
Link to other content on your website.
Link to highly ranked websites. For instance we might want to link to Apple's iTunes Store or Google Play.
Most importantly, keep it down to earth and easy to read. The web is full of words so make sure yours are worth reading!
See your visitors increase
If you blog at least a few times a month, with relevant unique content, you'll improve the frequency that search engines visit your site. The more search engines come back to get new content, the more visitors will find your content and ultimately your site will be ranked higher.
In a interview with LinkedIn's Reid Hoffman, Microsoft's Steve Ballmer described the position of Windows 8 against its Android and iPhone competition.
He described iPhone as being the top end of the market, with Android being at the bottom with it's "wild" issues such as malware and compatibility. Windows 8 fits in there as the "personal" choice, allowing users to "only see the things that matter".
He also stated that he didn't expect the phone operating system to be an instant hit and that it had a lot of catching up to do. Currently Microsoft only have 2.4 percent of the smartphone market. Microsoft's challenge is to gradually increase that market share and Ballmer said it wasn't going to happen overnight.
One thing's for sure, there is a need for an enterprise phone/tablet device and Microsoft is ideally placed with it's position in the market due to it's server technology and the defacto standard for desktop apps. Could that be the answer to increasing market share?
Setting up the Windows 8 Phone Development Environment
The Windows Phone 8 SDK has just been publicly released and there are higher than usual requirements for creating the development environment. From the official SDK page the requirements are listed as:
Hardware:
• 4 GB of free hard disk space
• 4 GB RAM
• 64-bit (x64) CPU
Operating systems: Windows 8, Windows 8 Pro (64 bit only)
Does your PC support SLAT?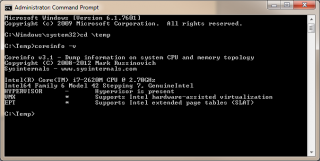 The Windows Phone 8 Emulator requires Windows 8 Pro edition or greater and a processor that supports Second Level Address Translation (SLAT)
How to find out if your PC supports SLAT The SysInternals CoreInfo utility can be used. Do the following:
Download CoreInfo, & run the following command to dump only the virtualization-related features.
(You'll need to run the command as administrator)
coreinfo –v
If you have an Intel processor you need to look on the last line entitled EPT. If you see a star you are good to go, a dash or nothing – then new hardware will be required.
On AMD processors you are looking for the last line entitled NP. Again, a star means your PC supports SLAT, a dash or nothing = you won't be able to run the emulator.