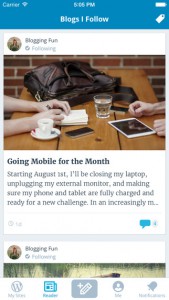 Here's a quick guide on how to set up the WordPress app on your iPhone or iPad. This means you can add blog posts & pages on the move.
Download the WordPress app from the App Store here
Tap "Add Self Hosted Site"
Enter your website's username
Enter your password
Enter the full URL (website address) of your site, i.e. www.mysite.co.uk
Once logged in, you'll see a list of sites you've added. Tap the site you want to work on.
To add a blog post or page, tap blog posts or pages, then the + symbol top left. Type the post title & the body of your post or page. You can also add media by tapping the attachment icon (bottom left, above the keyboard). Once done, tap post & set visibility settings, including adding a featured image to the post.
For more help on the WordPress App, see the WordPress for iOS forum here.